Come say hello
Everyone is welcome. Walkers taking a pitstop from following the South West Coast Path. Locals treating themselves to a well-deserved dinner out. Holidaymakers catching the ferry over from Salcombe. And of course, your four-legged friends too. Have a hot drink and snack. Come for lunch or dinner. Enjoy drinks on the terrace. Stay for a sunset.
Restaurant
Pop by for lunch between 12:00 and 14:30, for up to six people. To make sure you get a table, booking is recommended. We do welcome walk-ins but don't be disappointed if everyone has the same idea and we can't squeeze you in. Or treat yourself to an evening out and dine with us between 5.30pm - 6.30pm. You will need to reserve your table.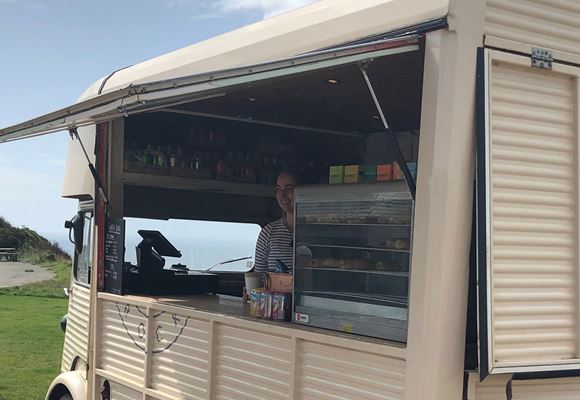 Garavan
Refuel with us
Open high days and holidays from 11am until 3pm, we'll be here with a warm and welcoming smile. It's the place to relax and refuel right on the South West Coast Path. Wrapped up warm in winter or feeling the sun on your face in summer, sit on the terrace, rest your legs and enjoy a tasty treat and drink from our Garavan. Choose from a selection of pasties, sandwiches, hot and cold drinks, ice cream or confectionary. You'll also find seasonal treats too, such as mince pies and mulled wine at Christmas. Come say hi and tuck in to a welcome snack before carrying on, on your coastal adventure.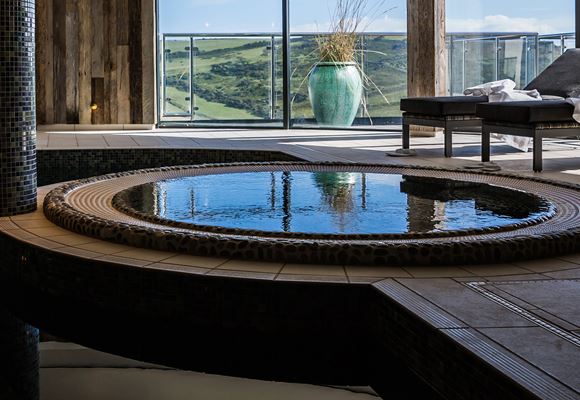 Wild Rock Spa
Press pause & relax
We're really sorry but sadly, we're not able to offer treatments to non-residents at this time. Or spa days just yet but we will let you know when we can. We can't wait to welcome you back, so keep an eye on this page for the latest information.
Take a look at the walks near Gara Rock
Sitting right on the South West Coast Path there are many walks you can do from the hotel.
Come & stay with us
We love it when you pop in to see us, but why not come and stay in one of our beautiful rooms! Take a look at our upcoming availability...