GARA ROCK IS IN THE SPOTLIGHT
For another year running, we're excited to reveal that our clifftop retreat has been awarded bronze for the Small Hotel of the Year by Devon Tourism Awards. The judges look for a truly memorable experience, and with our endless sea views, effortlessly stylish accommodation, and restaurant's flavour of Devon, we can see the attraction! We may be small, but our countryside surroundings and panoramic sea views make a statement. 
It's great that we've been recognised by our local tourism board as one of the best small hotels within this beautiful part of the UK. It's a strict process, which looks at everything from our top qualities and the recent improvements/developments we've made to our success last year. And there is even a visit by a mystery shopper judge, who came to check out or lovely spot on the clifftop for themselves.
We've added an extra touch of Gara Rock to our guest experience by upgrading our in-room welcome treats and adding TV casting functions so guests can share their phone apps to the TV. Our sparkling new Ox Grill took centre stage on the outside terrace too. But we won't spoil all the surprises, you'll have to come and see for yourself…

Our stunning accommodation is full of simplistic design, home comforts, laid back elegance and casual cosiness. The option of a relaxed night in with the family or dressing up and visiting our glorious restaurant with your significant other. We like to keep it local in our restaurant wherever we can. Sample South Devon's finest cuisine and sip on a glass of something chilled. Pair this with grand sea views… we can see why we caught the judges eye.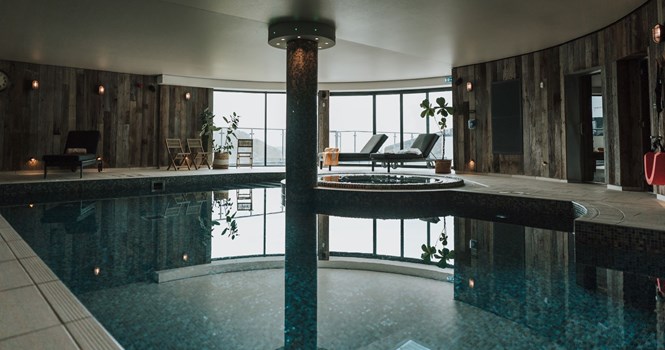 At Gara Rock, we encourage you to escape the real world. Press pause and unwind in our Wild Rock Spa. Lose yourself in a film while tucking into popcorn in our cinema room. Slip into the pool and have a few leisurely laps. Sink into the jacuzzi and admire the views. Not far from the sunny seaside town of Salcombe, explore the delights of South Devon's rugged coastline.
come & stay with us
Whether it's the two of you, a family break, or you're bringing your pooch along, you're always welcome to our little haven.